How do you inspire empathy and develop an inclusive and peaceful community? How do you create a bridge between Host and Refugee community; so they understand each others better?
The answer is 'through storytelling'. Stories are powerful medium that can transpires through boundaries, languages, ethnicity.
Being 'Refugee' is not a foreign concept to Bangladeshi people. In 1971, during our Liberation War, more than 10 million people took refuge to India. That's why Bangladeshi people can connect to the pain and suffering of being a refugee.
So, in Year 2022, UNHCR & Light of Hope Ltd. worked with popular children book author and publisher Waliullah Bhuiyan to publish the book titled 'Amar Bondhu Amena' (My Friend Amena). The book is published under it's publishing brand Goofi. The story revolves around a Rohingya girl who just fled from Myanmar and a local Bangladeshi boy. It's a fascinating story with the core theme of empathy, inclusion and peace.
Storytelling Sessions through School Campaign
To start spreading the message of the book, Light of Hope launched a school campaign aptly naming it 'Campaign for Empathy & Peace'. A series of school campaigns are organized in 20 schools across Dhaka and Cox's Bazar where approx. 10,000 children are engaged through storytelling and puppet session to deliver the key messages of the story. Currently, another 10 schools are participating under the campaign.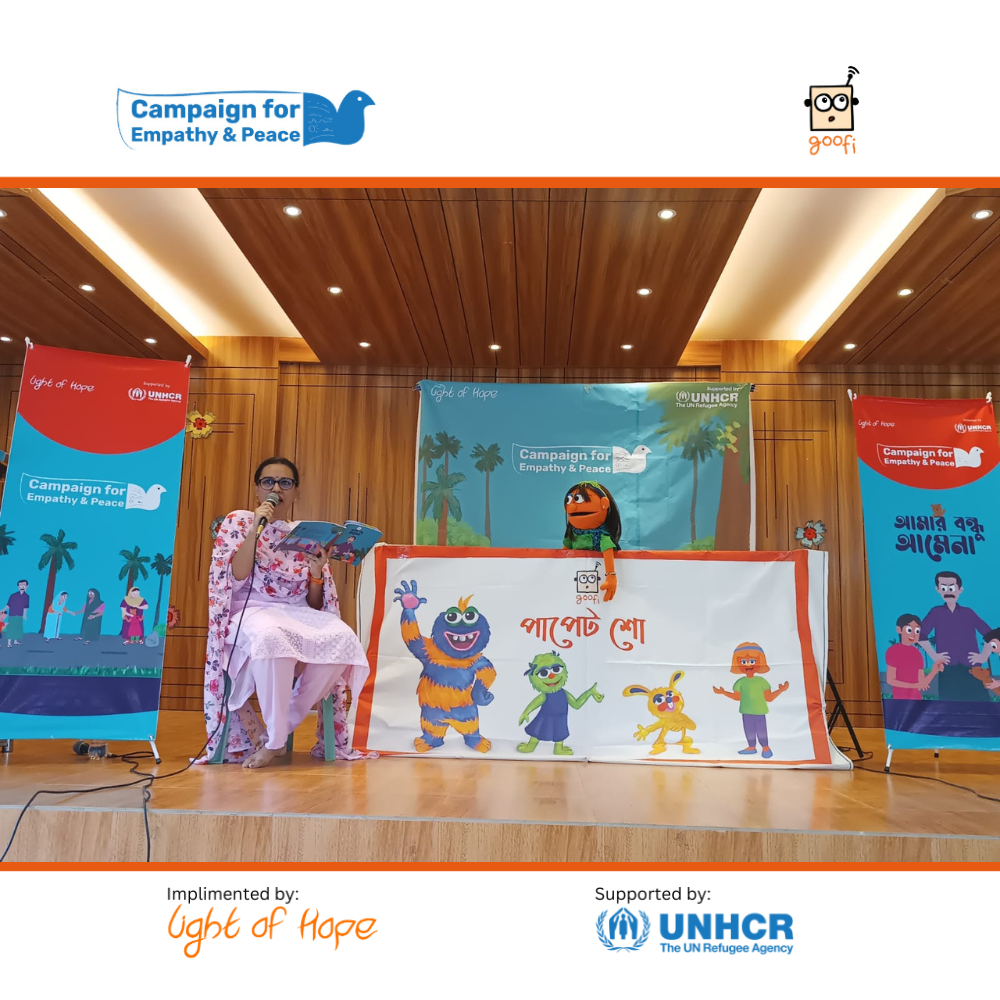 The team also uses other platform like Dhaka LIT Fest, Kids Time Fair, National Liberation War Museum to organize the storytelling sessions. UNHCR & Light of Hope participated in Dhaka LIT Fest 2023 to bring wider attention to the issue where people visited the stall, get free copy of the book. Storytelling session was organized for the children and parents at the Dhaka LIT Fest. A special storytelling event was organized on Refugee Day at the Liberation War Museum.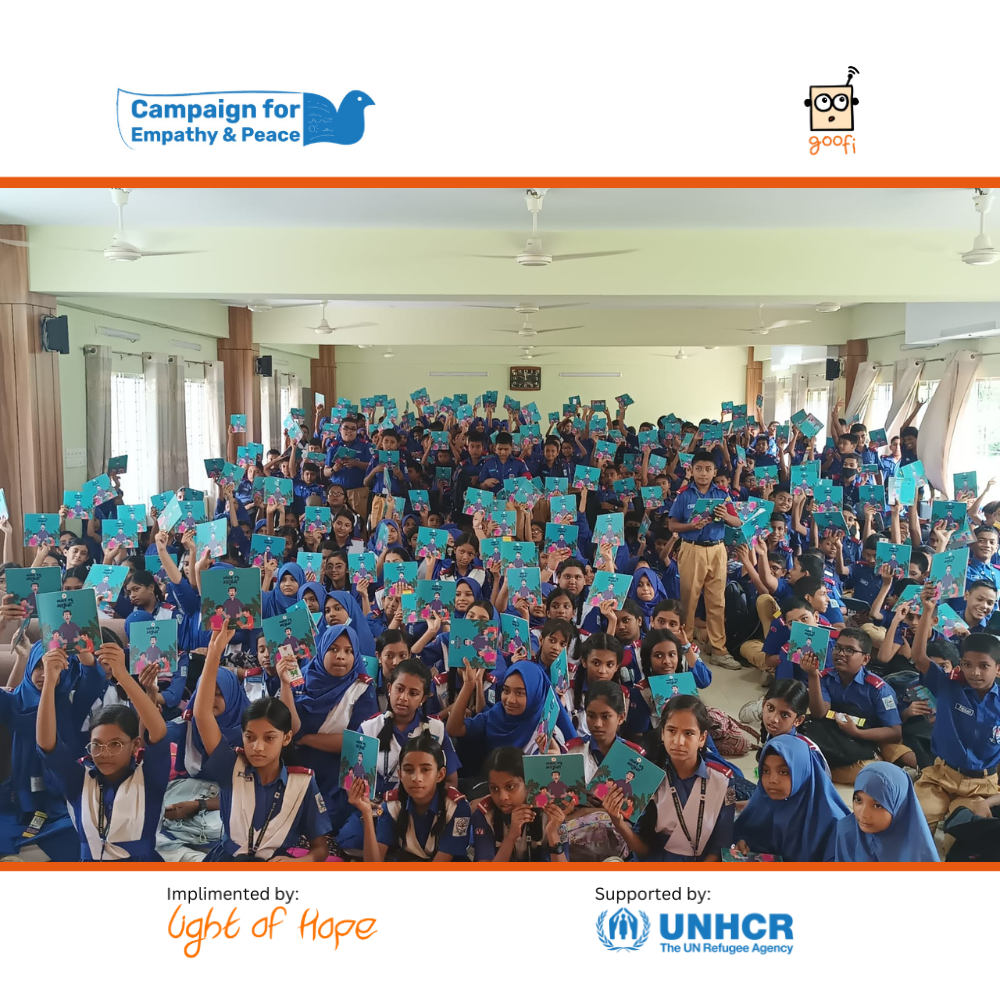 Thousands of copies of the story book are distributed among the children and the schools were the campaign is organized. Besides, school teachers and the parents are also engaged during the campaign.
The book reading video by the Author himself, reached over 150,000 people in social media raised awareness about the topic. Both Light of Hope and UNHCR have plan to translate the book into different languages too. Work is already in motion to make the audio version available on popular audio-book platform.
In future, the story might turn into a short film, an animated book and other format appealing to bigger audience.
Stories have immense power in shaping our belief and our values. Stories have power to bring communities together, break the barriers. Imagine, all the stories (either in book or audio-visual format) we have consumed since childhood and their impact on shaping who we are.
We believe 'Amar Bondhu Amena' is going to be another classic story that will connect people of all ages and will be an inspiration to others who want to use the power of storytelling to bring good to society.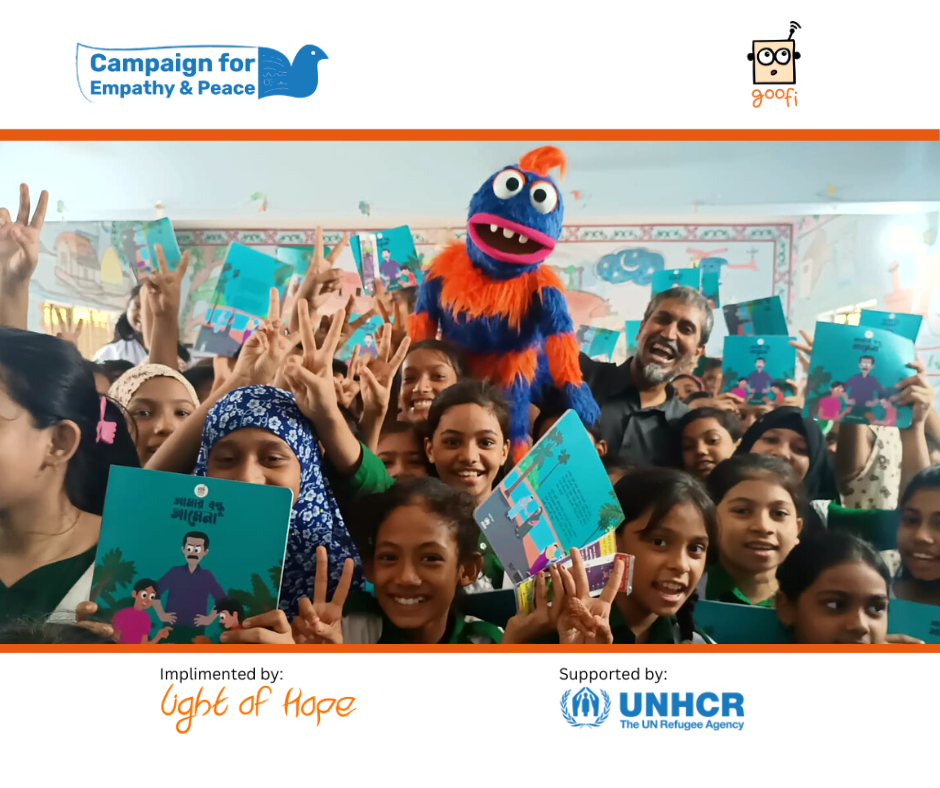 Interested to collaborate with our Team?
Click the image below to find how you can collaborate with us for your project, organization, or brand to bring positive impacts.