At Light of Hope, we believe in shaping a brighter, healthier future for our children. Our mission is clear: equip the young generation with essential life skills and foster good behavior and healthy habits that will serve them well throughout their lives.
With this commitment in mind, we proudly introduce our "School Nutrition" campaign, a transformative initiative aimed at educating young minds about the importance of healthy eating and lifestyle choices. But we're not doing this alone; we're inviting you to be part of this inspiring journey.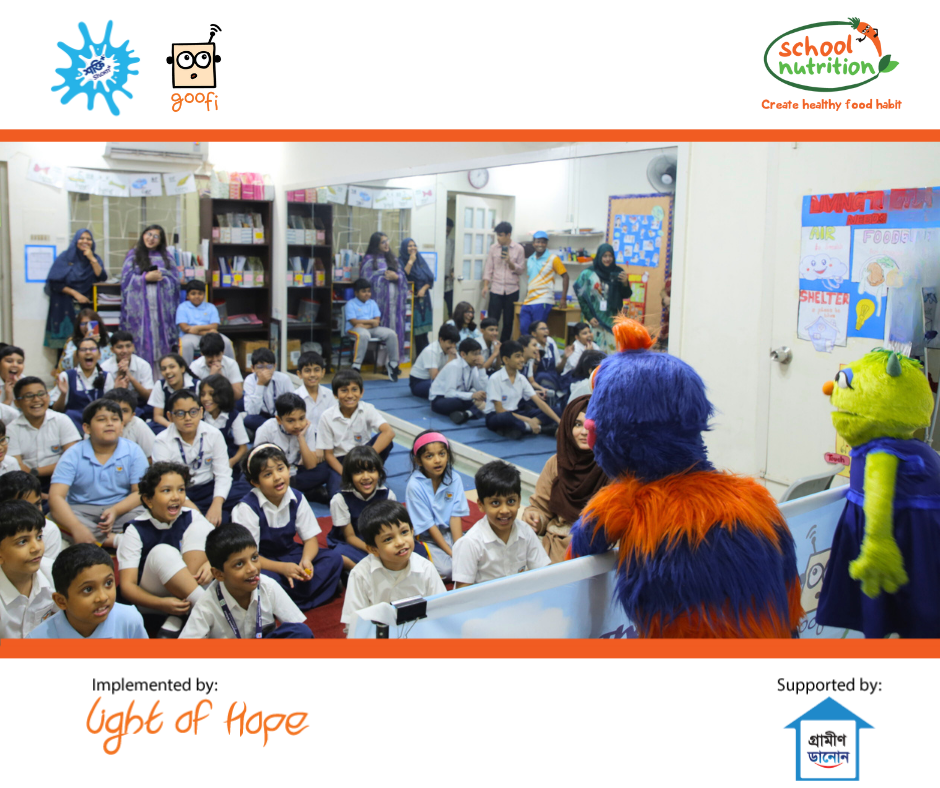 "School Nutrition" Campaign: A Partnership for a Healthier Future
The motto for the "School Nutrition" campaign is 'Grow healthy food habits'. The campaign was initiated by Goofi, a popular children's edutainment and learning brand of Light of Hope Ltd. The campaign started with a mission to instill healthy food habits in young children through engaging and interactive means.
Our secret ingredient? A colorful cast of muppet characters who are as fun as they are educational. Through their adventures, children learn about the goodness of nutritious food, the importance of making healthy choices, and the joy of embracing a balanced diet.
Under the campaign, Light of Hope will also prepare school nutrition guidelines and plans for schools so that children can learn about the importance of healthy food and can also have healthy snacks at the school premises. Besides, we organize nutrition sessions with parents and teachers at the schools.
To practice healthy food habits at home, Light of Hope will provide materials, contents, and tips for the parents, so that they can prepare alternative healthy snacks at home and encourage children to opt for more healthy food.
Collaboration with Grameen-Danone: A Winning Recipe
We are delighted to have Grameen-Danone as a partner and first sponsor of the "School Nutrition" campaign. Their support brings a touch of magic to our events, with Shokti Yogurt and other healthy snacks for children. Together, we are conducting successful school campaigns, reaching young hearts and minds with our message of health and wellness.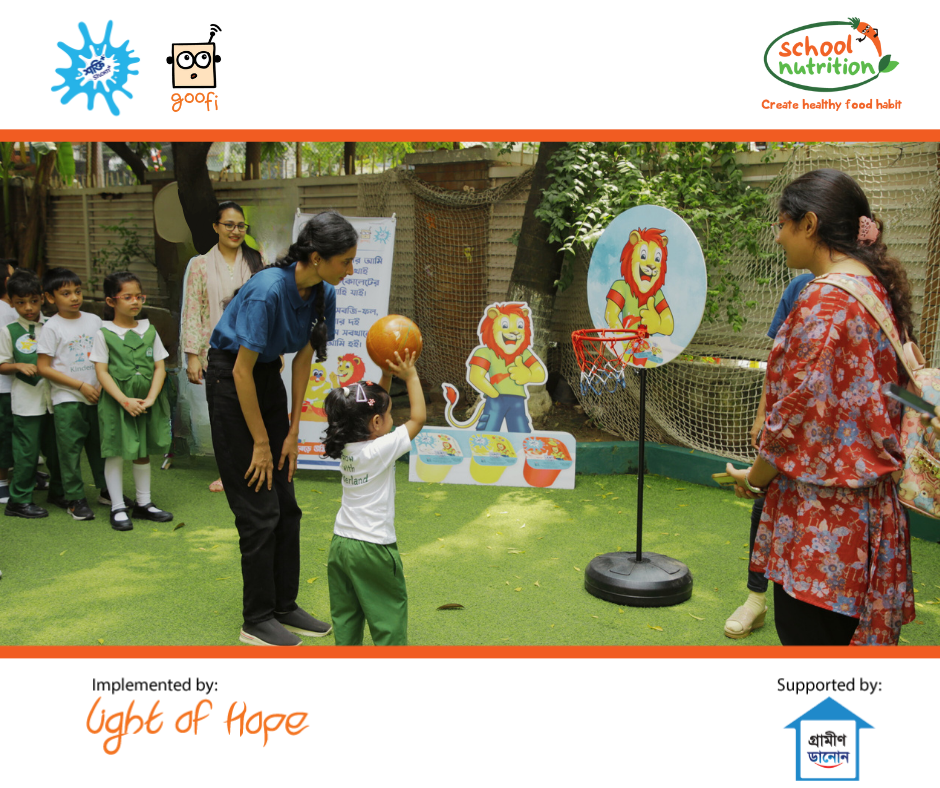 Expanding Our Reach: An Invitation to Brands
But our mission doesn't end here. We envision the "School Nutrition" campaign as a platform for collaboration and impact. That's where you come in. We see a fantastic opportunity for other healthy snack brands, non-profits with similar missions, and government agencies to join hands with us and be part of this transformative movement.
How You Can Get Involved:
Collaboration: Partner with us to showcase your brand's commitment to health and wellness. Your products can become a part of our campaign, helping to shape a healthier future for children.
Sponsorship: By sponsoring our events, you can contribute to the success of the campaign while aligning your brand with a cause that resonates with parents, educators, and communities.
Showcase Your Brand: We'll shine a spotlight on our collaborators, featuring them in our campaigns, blogs, and social media posts, giving your brand valuable exposure.
Help Us Grow and Make a Difference:
We have ambitious goals for the "School Nutrition" campaign. Our current target is to reach a total of 20 schools in the Year 2023 and another 100 in the Year 2024, touching the lives of countless children with our message of healthy living. But to achieve this, we need your support and partnership. Together, we can create a positive and lasting impact on the health and well-being of the younger generation.
Join the Movement: Get in Touch Today:
If you are a brand committed to promoting healthy living among children, we invite you to connect with us. Let's discuss how your brand can be a vital part of the "School Nutrition" campaign, and together, we can shape a healthier future for our children.
Contact us at 01777800866 or visit our website to learn more. Together, we can make a difference, one healthy choice at a time.
To know more, about how the 'School Nutrition' campaign works

To onboard your school for the campaign, Please
To learn more about how our activation and campaign work,
Interested in collaborating with our Team?
Click the image below to find out how you can collaborate with us for your project, organization, or brand to bring positive impacts.